<![CDATA[今晚,在凱達格蘭族的故鄉 -- 北投的社區大學,來了一位南台灣的重量級女音樂家,為大家帶來了一場超精采的音樂饗宴…… 而這位女音樂家,就是大名鼎鼎的少妮瑤!Nose flute could be a common memory of all the Austronesian peoples in the world, as it's an important instrument for most of them. And among all the nose flute playing people, Taiwan's indigenous people's twin-pipe nose flute is something you shouldn't ignore — Because the twin-pipe nose flute can only be found in Taiwan! Last night we had an indigenous musician from Southern Taiwan to Taipei to share her rich world of music with us: the Paiwan musician Sauniyaw Tjuveljevelj! Sauniyaw is from the Paiwan community Sinvaujan in Pingtung, the home of indigenous Paiwan people and also the home of the nose flutes of Paiwan. It's true that Paiwan is not the sole Taiwanese indigenous people that still play the musical instruments, but compared to the other ethnic groups where only a very few people know how to play, Paiwan is famous of still having a large number of teachers and students playing them. Why? We should really give some credits to Sauniyaw. Traditionally female and children were not allowed to play nose flutes (Paiwan: ngudjus lalingedan), and only the noble men or warriors could. However, as there were fewer and fewer people playing them, even as a girl, Sauniyaw decided to break the rule and learn the instruments from the elders in her community, and spread the sounds of nose pipes among the communities of Southern Paiwan. Now, with the efforts of many Paiwan people, the nose flutes are widely played by everybody. For example, the twin-pipe nose flute played by Sauniyaw last night is for children actually, which is shorter and easy to carry:
Let's pipe the twin-pipe nose flute only found in Taiwan!
According to Sauniyaw, single-pipe nose flute is more difficult to play than twin-pipe nose flute as it's harder to control the breath when there is only one pipe to send in the air. Let's check a demo of single-pipe nose flute by Sauniyaw: Perhaps because the twin-pipe nose flutes are easier to learn, there have been more Paiwan people playing the twin-pipe — But do not look down upon the twin-pipe nose flutes just because they are more common…… Because they are only common in Taiwan's indigenous communities, but have disappeared (or never appeared) in the rest of the world! Nose flute has been regarded as one of the common memories of the world's Austronesian peoples. But most of the Austronesian peoples only play the single-pipe nose flute, only the Austronesian peoples in Taiwan still play the twin-pipe nose flute, especially Paiwan, Rukai, Amis, and Pinuyumayan. For example, this is a picture of a Fijian girl playing a single-pipe nose flute: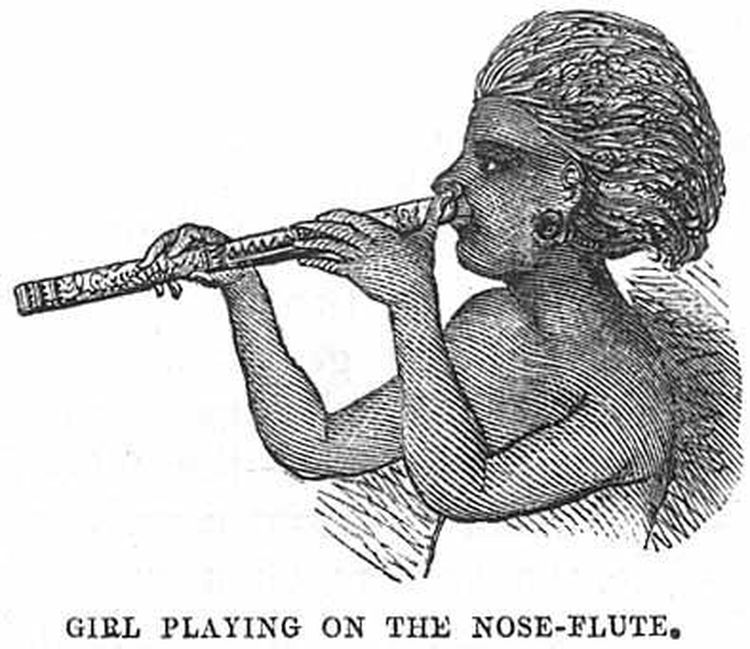 No matter we're sad or happy, let's play nose flutes!
Since nose flutes are so special, when do the Paiwan people play them? 1. On any mournful occasion Like Chinese people, the Paiwan people think men should not cry. And so the men should play nose flute to express their sorrow as in Paiwan culture, the soft sounds of nose flutes sound like whimpers that they think it's a good way to express the men's sorrow. 2. On the nobles' wedding party As mentioned, the playing of nose flutes used to be a privilege of the noble men and the warriors of Paiwan, and so the nose flutes have been connected to nobility and are also played on the noble's wedding party to praise the nobility of the princess. Also as a nose flute needs more strength to play, more air to be sent to the pipe(s), when a man becomes 60 or 70 years old, he may have no strength to play it any more. And so the Paiwan people think a man who can still play nose flutes means he is an energetic and healthy man! So there are so many stories behind a simple nose flute…… Much appreciated, dear Paiwan people who have spared no effort to keep the beautiful sounds of nose flutes played around the world!

For more interesting indigenous stories? Now follow us on our fan page!